Main Content
Upcoming Events
There are no upcoming events at this time.
Library Updates
2020 Summer Reading & Middle School Reading List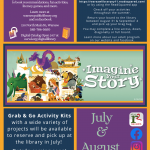 Imagine Your Story this summer at Warsaw Public Library.   Summer Reading  for all ages.  Register for a Read Squared account for access to book recommendations, Middle School Reading Lists (including links to the catalog) fun activities, literacy games, summer reading bingo and more. Read Squared has activities for all ages. Learn more with Miss Mary at https://youtu.be/DBP6BvtZSVg Register your family for a Read Squared Account at https://warsawlibraryny11.readsquared.com/ Summer Reading Bingo …
Warsaw Public Library COVID-19 Updates
7/27/2020 WELCOME BACK TO THE LIBRARY!We are slowly reopening to the public on Monday, 7/27 at 10:00 am.The doors will be open, but with limited hours and available services. Our temporary hours are as follows;Monday and Tuesday 10-4Wednesday and Thursday 1-7Friday 1-5Closed Saturdays. You must be in good health to visit the library. Masks or face coverings are required for all patrons, 2 years of age and older, and must be worn at all times while in the building, covering both nose and …
2020 Summer Activity Programs for all ages!
Imagine Your Story this summer at Warsaw Public Library.   Summer Activity Program for all ages.  Register for a Read Squared account for access to book recommendations, fun activities, literacy games, summer reading bingo and more. Read Squared has activities for all ages. Learn more with Miss Mary at https://youtu.be/DBP6BvtZSVg Register your family for a Read Squared Account at https://warsawlibraryny11.readsquared.com/ Summer Reading Bingo for ages up to 18. Use a printed card or …